7 tags
Top 3 Ways To Extend the Life of Your Annual...
R.O.I. matters. If you're not dealing in goods and merchandise, but rather you provide a service – like for instance, team building games – how can you demonstrate the service was worth the expense? Whatever measurement you choose will betray a bias before the measuring process even begins. That said, when it comes to measuring R.O.I of a retreat, my bias compels me to favor time as the...
13 tags
The Top 5 Best Places for Team Building in Los...
The appeal of Southern California as a destination for team building is so obvious as to be nearly needless to mention. There's great weather here all year round. We are home to some of the globe's most frequently pictured landmarks, many of them related to the birthplace of the movies. At the other end of the spectrum, there are equally infamous qualities of the city, traffic being foremost...
3 tags
4 tags
Top 5 Good Ideas for Diversity Team Building
Here at Wise Guys, we're fond of the quote attributed to Plato that goes, "You can learn more about someone in an hour of play than from a year of conversation." But what exactly can you hope to learn from them? In many instances, you just might learn how much value they have to offer to you as a human and a teammate, value that might have previously gone unnoticed. Many...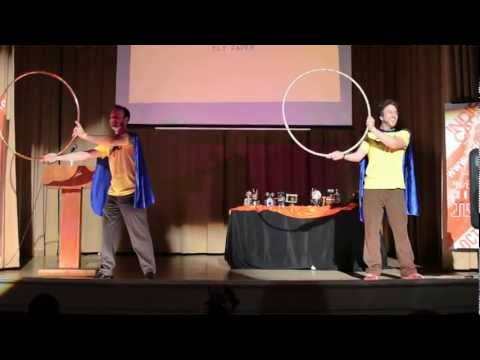 9 tags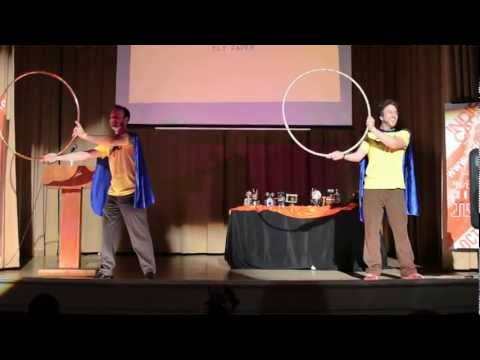 3 tags
Five Things That Make for a Great Team Building...
Team building events have grown in popularity over the past few years as more and more businesses have realized their potential. With so many different team building companies now around it's important to ensure that your event ticks all the boxes. Jenny Pink from Accomplished Events, a team building company in the UK, suggests 5 tips to make sure that your team building event is a smash. 1. Above...
4 tags
Watch
If Greg and I didn't blog much in 2012, it's because - in part, anyway - we were designing our first ever ARG. That's a buzzword, and it's short for alternate reality game. We were hired by USC to develop a game for high school students that would get them excited about science and technology education. The game was a 6 week adventure where students were inducted into i4,...
2 tags
IndieCade 2012: The village and the firehouse
In between producing the Red Carpet Awards show, running Pickpocket Junction, and hosting Iron Games, I did get to attend some of the festival and play some of the games. Here's my report, after the jump. [[MORE]] I'm all the way on the right, by the way, enjoying Rakete. I missed Mary Flanagan's keynote, the talk on world design with Sara Thacher, and Eric Zimmerman's...
4 tags
IndieCade 2012: Email to the girls
It's been ages since I posted anything on the blog. Our work is seasonal, and the summer is when we always have the most clients. This year was no exception: we had loads of corporate team building clients and did games all over town, especially Santa Monica 3rd St Promenade. On top of that, we did the series of Westfield Games, a giant game in San Francisco, and a few other special...
11 tags
May's Days
What do "Bachelor Pad" and "RuPaul's Drag Race" have in common? For once thing, both called recently to see if I was available to produce challenges and games for them over the summer. And while normally I like taking TV work - well, clarification, I like getting paid TV money - there is TOO MUCH going on at Wise Guys for me to check out for a few weeks. That's...
4 tags
6 tags
Stage play
Thanks for the quick and positive feedback, Jed. I will continue in this vein. Here's the story of the mischief we got up to on Thursday night. [[MORE]] If you've ever read our newsletter, you know we present games for the public every month at Mindshare, a downtown salon for outgoing, progressive, inquisitive types. There are TED-style talks, art, music, a bar, and for almost a...
8 tags
Rainy day recess, sunny day raincoats
It's too late for a new year's resolution, but my new goal is to write more posts to this blog that reflect my own personal experience as a game master, as opposed to re-posting articles about the state of gaming today. I start with a story of failure and a story of triumph.[[MORE]]Well I don't know if it was failure or not. Perhaps putting it in writing will help me think it...
7 tags
Under the Boardwalk
Pictured: Big Dipper, the old rickety wooden roller coaster in Santa Cruz. People still ride it to this day. The reason why is beyond me. Safer by far to enjoy Rides by Fourth Wall Studios. Ever since I saw Elan Lee at a Transmedia LA event talking about his experience creating The Beast and other game-changing events, I have been very interested to follow what Fourth Wall is doing, and now they...
Something's Fishy
Last night Wise Guys continued our monthly residency at Mindshare, LA's premier edutainment salon. My words, not theirs. This month's theme was The Vast Blue (the ocean) and there was a fantastic collection of speakers talking about harnessing wave energy, how Greenpeace led to sustainable sushi restaurants, and of course hermaphroditic sea slugs. The real star(fish) of the show, of...
4 tags
Play the Great Urban Race in Santa Monica
Greg and I played this game a couple years ago in Hollywood and it was a ton of fun. We hope you play this game and enjoy! http://greaturbanrace.com/event2012_la_santamonica.php
4 tags
Playtest time
Myles and Greg, with some help from Myles's wife Laurel and baby Fenton, prepare our new game to submit to IndieCade.
7 tags
"You forgot to file your FAFSA!"
Crowing that gleeful declaration was one of the highlights of playing Application Crunch, one of the best games I enjoyed at last year's IndieCade festival. The good news is that this game is now available for purchase on Amazon. The bad news is that the Hatter's Table, which shared some of the design team, did not meet its Kickstarter fundraising goal and remains ephemeral. However,...
6 tags
Watch
I very much enjoyed this talk by Nick Fortugno that I found on Twitter this morning. It was a good reminder, as I am considering what game or games to submit to this year's Indiecade. To read more about the fun I had with Nick at last year's festival, click here
5 tags
Bell and Some Hessian: A New and Unsafe Game for 2
Hi everybody, sorry there haven't been many new posts this year. I have a newborn son, which is not a game, but is a challenge all its own, and one I quite like. However, I simply HAD to post this video. I'm not allowed to tell you too much about it, because it's sort of secret, but suffice it to say this is a game that was submitted to a popular reality TV show as a potential...
19 tags
Steve Jobs's Mind On a Bicycle
This video from 1990 shows Steve Jobs (not working for Apple at the time) talking about two of my favorite things: games and bicycles. http://www.cultofmac.com/136734/steve-jobs-on-gaming-its-the-future-of-learning-video/ I'm using the low-expectations week between Christmas and New Year's to watch some of the longer videos I have bookmarked and promised myself to watch, although...
4 tags
'Tis the season
Well, it's the wrong season, but it's the season all the same. Congratulations to the winners of the Gameful Summer Challenge Series! The winners and their games are listed here: http://gameful.org/blog/2011/11/01/gameful-summer-challenge-series-winners/ Now the next challenge will be… who will be first to play all these games?
16 days to go!
Hey everybody, let's fly to Scotland! Come on! Who's with me? But look at this awesome new games festival they're having on January 1st! http://thenewyeargames.com/ Given that my wife is likely going to deliver a baby 1 week after this, maybe I should save my airfare dollars and just wait for next year's IndieCade to come around again. Unless I get a teleportation machine...
The Island of Broken Games
Jesse Fuchs - Monopoly : Part 1/2 from New School Game Club on Vimeo. Jesse Fuchs - Monopoly : Part 2/2 from New School Game Club on Vimeo. One of the stand out talks at the debut "Practice" conference in New York a few weeks ago was Jesse Fuchs's two-minute talk about Monopoly. This is the more complete version of the talk addressing this comprehensive subject. I...
5 tags
Speaking in mime?
Practomime, that is Practomime is a new word for what stories, games, and many other kinds of works of art have in common: they all involve creative activity in a cultural zone regulated for play. In plain language, that means that the Iliad and the Odyssey are really the same kind of thing as some of the most popular video games today. The ancient Greeks learned most of the stuff that made...
6 tags
The December Game at a fancy Beverly Hills Hotel
Check it out! See more photos here. Get our own December game here!
Mind, games
Jane McGonigal was right! Fourteen-year-olds who were frequent video gamers had more gray matter in the rewards center of the brain than peers who didn't play video games as much — suggesting that gaming may be correlated to changes in the brain much as addictions are. [Source: Los Angeles Times] As I believe I've mentioned before, my wife is a neuroscientist, and she would...
Reality+
When I saw Elan Lee speak at the Transmedia LA event downtown, he said the sad truth that most Augmented Reality programs, as they are currently implemented, are at best herky-jerky and at worst just plain suck. The question of whether AR is over before it even began (like the VCR before it) is a raging one, but this blog post indexes a few ways that Augmented Reality is living up to the hype - or...
It's my birthday!
And I want TREATS! Particularly, I am interested in treats that remind me of games. How about these game inspired desserts? Send them by mail to 123 My Mouth Street, and rush delivery so they arrive by eat o'clock.
Confederates in the fog
Greg and I are originally from Northern California; if we still lived up there (and some day soon, we may again!) we'd surely be playing games with Gabe Smedresmen: his work has been featured at Come Out and Play SF and he is a co-founder of Undercover Street Games. This is precisely the spirit of play that we work to galvanize here in LA. The two cities have a very different flavor, but...
7 tags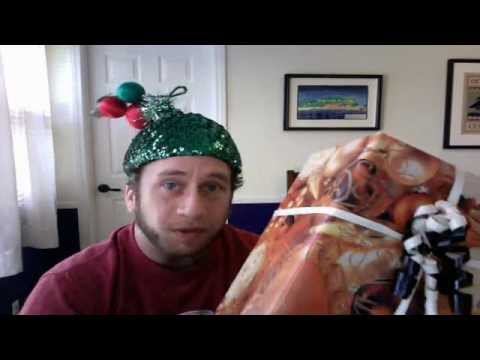 The Sixers that aren't Suxors
The above is a reference to Ernest Cline's "Ready Player One," in which the villainous henchmen all have 6-digit ID numbers that start with 6. I've referenced that book a couple times recently; I'm almost through with it! What should I read next? Of course, I would never dedicate a blog post to game griefers; rather, today I tip my blogger's hat to Adrian Hon...
6 tags
Games you will never play, ever
Flavorpill and Cracked.com have some of the best lists on the internet. This collection of "10 Fictional Games We'd Really Like to Play" covers many of the best from TV, literature, and comic strips. Suggested additions: the Oasis from Ernest Cline's Ready Player One and Pyramid from Battlestar Galactica. But not the card game, that just looked lame. I would also not play...
14 tags
Plural of glitch
Glitches, right? But what is the noun of assemblage? How about an agon of glitches? Two unrelated matters with not (yet) connected glitches: 1) "Butterfly milking and pig nibbling," a great ArsTechnica article sent to me by my father-in-law Jed. I like the creative environment described at the company that created this game. Here is Jed's accompanying email: It is entirely...
3 tags
Shoots and ladders
Red rover, red rover… here's a peculiar crossover: Keita Takahashi, creator of Katamari Damacy, one of the few videogames I have played (and enjoyed) has taken on a new project: designing playgrounds in England. "What inspired you to move from game design to playground design? Before I started making videogames, I studied sculpture. I've been in the videogame industry...
Smell of success (maybe)
For those of you who haven't been visiting Gameful.org, you should! It's a wonderful place to connect with the rest of the gaming community and learn about some groundbreaking, inspiring games, big and small, across all platforms, that are springing up all over. I especially enjoyed reading about this submission to the summer Gameful Challenge series: a game about smell designed to...
This is not a game
Sadly, it isn't. It's just a blog post. ("JUST.") However, by following this link you will be transported to another world! SPOILER: It's the world of Cracked.com, a humor site with many great lists that are as informative as they are amusing. The list I direct your attention to today names 5 of the most notorious, influential (aka "insane") Alternate...
6 tags
4th Annual Scavenger Hunt
One of the biggest games in LA all year long: don't miss this event! The L.A. Scavenger Hunt will be taking place on Saturday, November 19th in order to help gather material goods for the Union Rescue Mission, The L.A. Food Bank, Operation Blankets and Love, The Downtown Women's Center, My Friend's Place and the Dream Center. Not only does the hunt serve as a good cause for those in...
5 tags
Crimson Connections
If you want to get started playing the most exclusive game being played only in LA with some of the most creative up-and-comers in the media and arts world, first you'll have to get accepted to the University of Southern California. And even then, you've barely even begun. My business partner Greg and I are both Bruins, but I'm going to avoid all the cheap shots and instead...
5 tags
Gorilla Marketing
You may be familiar with the selective attention test; if not, you can try it for yourself now! If you're like most people who take the test, you might not have noticed the person in the gorilla suit who walks through the middle of the video. That may be because we tend only to see what we are looking for. And if what you're looking for is a Great Urban Race style adventure with a...
Ludicrous fun
The last time I went to Portland I spent the weekend playing pinball and board games, eating tacos, and watching all of "Better Off Ted" on Netflix instant. I had the best time! I love Portland, and this most recent visit just cemented that impression with me. I haven't enjoyed discovering a city so much since - until, that is Ludocity! A great aggregator/wiki of...
Mind games
My proudest non-Wise Guys association is with ComedySportz Los Angeles, the longest running show in LA. I've been doing short form improv games since I was about 11 years old, and performing with CSzLA for nearly 10 and am probably near (if not past) Malcolm Gladwell's ten thousand hour rule when it comes to improv (the minimum required to achieve expertise, if not mastery - to the...
Haunted Museum
Happy Halloween everybody! May all your candy be full-sized and all doors open when you knock. Our best Halloween experience this year was the scavenger hunt game we created for the Haunted Museum event for members of the Natural History Museum in downtown LA. We worked with Erin and all the great volunteers there to create this game for parents and kids to play together. Players could choose...
We're All Mad Here
[This guest post is… not by a guest: please welcome game master Greg's first post on the blog!] You will pardon me if this post reads as amateur, it is my first blog entry. I do not regularly write about, well, anything, but I recently had such an enjoyable time playing a game that I had to share the experience with anyone willing to listen. Or read. Or do you all have synesthesia? It...
I want to play this game.
I want to play this game. I want to play this game. I want to play this game I want to play this game. I want to play this game I want to play this game I want to play this game. I want to play this game I want to play this game I want to play this game I want to play this game I want to play this game I want to play this game. I want to play this game. I want to play this game I want to play...
5 tags
Occupy Wall Street
I am tempting all kinds of fate by picking such a provocative title for this blog post… let's see who comes a-knockin'! The game "Red Cloud Rising," which I read about here, is a continent away, which makes me sad. But what makes me happy is the way it captures what I like about blending the lines between playacting and game play: "Red Cloud Rising" is theater...